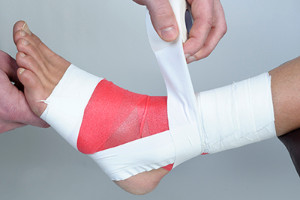 In a game on January 16, Denver Nuggets guard Gary Harris was forced to leave due to a right ankle sprain. X-rays were taken and there was no indication of a break. This is not the first foot problem Harris has sustained in his short career in the league. Recently, he missed 16 games for an injured right foot. Now in his third year, Harris has been averaging 13 points per game. Harris bounced back admirably from his injury though returning to face the Timberwolves and scoring a team-high 22 points in a hard fought 111-108 loss.
Sports related foot and ankle injuries require proper treatment before players can go back to their regular routines. For more information, contact one of our podiatrists of Southeast Podiatry. Our doctors can provide the care you need to keep you pain-free and on your feet.
Sports Related Foot and Ankle Injuries
Foot and ankle injuries are a common occurrence when it comes to athletes of any sport. While many athletes dismiss the initial aches and pains, the truth is that ignoring potential foot and ankle injuries can lead to serious problems. As athletes continue to place pressure and strain the area further, a mild injury can turn into something as serious as a rupture and may lead to a permanent disability. There are many factors that contribute to sports related foot and ankle injuries, which include failure to warm up properly, not providing support or wearing bad footwear. Common injuries and conditions athletes face, including:
Plantar Fasciitis
Plantar Fasciosis
Achilles Tendinitis
Achilles Tendon Rupture
Ankle Sprains
Sports related injuries are commonly treated using the RICE method. This includes rest, applying ice to the injured area, compression and elevating the ankle. More serious sprains and injuries may require surgery, which could include arthroscopic and reconstructive surgery. Rehabilitation and therapy may also be required in order to get any recovering athlete to become fully functional again. Any unusual aches and pains an athlete sustains must be evaluated by a licensed, reputable medical professional.
If you have any questions please feel free to contact one of our offices located in Fairhope, Brewton, and Atmore, AL and Jay, FL. We offer the newest diagnostic and treatment technologies for all your foot and ankle needs.
Read more about Sports Related Foot And Ankle Injuries