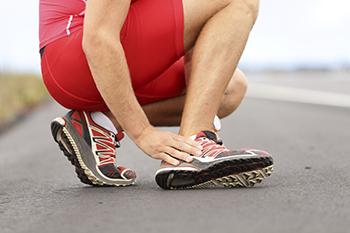 Ankle sprains are caused by an unnatural twisting or force on the ankle bones of the foot, which may result in excessive stretching or tearing of one or more ligaments on the outside of the ankle. The severity of the sprain can impact the degree of damage as well as the type and duration of treatment. If not properly treated, ankle sprains may develop into long-term problems.
Primary symptoms of ankle sprains are pain following a twist or injury, swelling, and bruising.
Treatment includes resting and elevating the ankle and applying ice to reduce swelling. Compressive bandages also may be used to immobilize and support the injury during healing. Serious ankle sprains, particularly among competitive athletes, may require surgery to repair and tighten the damaged ligaments.
To prevent ankle sprains, try to maintain strength, balance, and flexibility in the foot and ankle through exercising, stretching, and wearing well-fitted shoes.
Chronic lateral ankle pain is recurring or chronic pain on the outside part of the ankle that often develops after an injury such as a sprained ankle.
Signs and symptoms, our foot doctors will look for include:
Ankle instability.
Difficulty walking on uneven ground or in high heels.
Pain, sometimes intense, on the outer side of the ankle.
Repeated ankle sprains.
Stiffness.
Swelling.
Tenderness.
Osteochondritis is a lesion that usually causes pain and stiffness of the ankle joint and affects all age groups. Osteochondritis is caused by a twisting-type injury to the ankle. Symptoms include swelling and ankle pain. Immobilization of the foot and ankle for a period of time usually resolves the problem. In more severe cases, however, surgery may be prescribed. During the surgery, our foot and ankle surgeons find loose fragments of cartilage and bone are removed from the ankle joint and, in some cases, small drill holes are made in the defect to stimulate new blood vessels and help form scar tissue that will fill the defect.
If you have any of these symptoms, call us at Southeast Podiatry to make an appointment with Dr. Brent Harwood and Dr. Brad Egly.