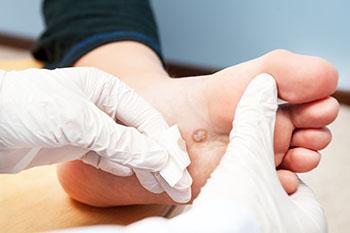 Plantar warts are in the outer layer of skin on the soles of your feet, they are caused by an infection with the human papillomavirus (HPV).
They usually appear on the heels or balls of your feet, they are hard, grainy growths in the areas that feel the most pressure. This pressure also may cause plantar warts to grow inward beneath a hard, thick layer of skin (callus). Most plantar warts aren't a serious health concern and may not require treatment. But plantar warts can cause discomfort or pain.
More than 100 types of HPV exist, but only a few cause warts on your feet. Other types of HPV are more likely to cause warts on other areas of your skin or on mucous membranes.
It is possible that one of our podiatric physicians, Dr. Brent Harwood or Dr. Bradford Egly, they will prescribe and supervise your use of a wart-removal preparation. Self treatment is generally not advisable. Over-the-counter preparations contain acids or chemicals that destroy skin cells, and it takes an expert to destroy abnormal skin cells (warts) without also destroying surrounding healthy tissue. Self treatment with such medications especially should be avoided if you have diabetes or if you have cardiovascular or circulatory disorders. Never use them in the presence of an active infection.
Tips for Individuals with Warts:
Avoid self treatment with over-the-counter preparations.
Seek a podiatric evaluation and assistance with the treatment of your warts.
Diabetics and others with circulatory, immunological, or neurological problems should be especially careful with the treatment of their warts.
Warts may spread and are catching. Make sure you have your warts evaluated to protect yourself and those close to you.
If you have any of these symptoms, give us a call at Southeast Podiatry, with one of our doctor's, Dr. Brent Harwood or Dr. Bradford Egly.