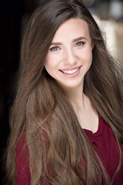 Local dancer receives $1,000 scholarship to attend summer dance program in NYC"
Chloe Theriot, of Dance Arts South dance studio, was selected from over 1,000 national dancers to perform in the iTheatrics DVD production of Footloose, Jr. and Sister Act, Jr. to be filmed in New York City this summer. Chloe has been trained in dance for 13 years, and her ultimate goal is to be a triple threat on broadway.
Helping her realize her dream of going to NYC to further her dance career is Dr. Brent M. Harwood. Chloe was also selected as the recipient of the Third Annual Dance Scholarship presented by Southeast Podiatry and Dr. Brent M. Harwood. The scholarship is awarded to one local dancer who demonstrates a passion and talent for dance to attend a summer dance program.