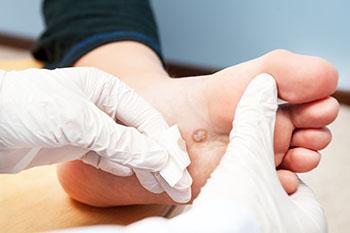 Plantar Warts are noncancerous skin growths caused by the Human papillomavirus, HPV. Even though plantar warts are relatively harmless, they can be quite painful. The warts most often develop beneath pressure points, such as the heels or balls of your feet.
Plantar warts can appear anywhere on the foot or toes and tend to be hard and flat, with a rough surface and well-defined boundaries. They are most often are gray or brown, sometimes described as looking like a cauliflower with one or more pinpoints of black in the center.
To prevent the spread of warts, follow these tips:
Avoid direct contact with warts, both from other persons or from other parts of the body.
Avoid walking barefoot, except on sandy beaches.
Change your shoes and socks daily.
Check your children's feet periodically.
Keep your feet clean and dry.
Most plantar warts aren't a serious health concern and may only last a month or two. In this case, they don't require treatment. However, if plantar warts become painful, make an appointment with a podiatrist at Southeast Podiatry for a thorough diagnosis and treatment plan.