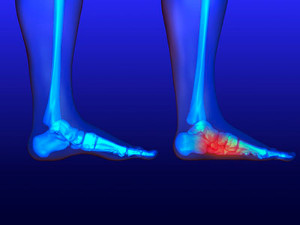 The medical condition that is known as flat feet is noticeable while standing on the floor, and is generally caused by genetic factors. Some people can live with flat feet and have no issues or pain arise, but many athletes affected by this ailment can result in serious injury if not prepared for. The arch acts similar to shock absorbers, and can help in pushing off when walking and running. Patients who are afflicted with flat feet may feel pain and discomfort while participating in sporting activities, which may be caused by loose tendons. Additionally, these patients may have difficulty standing for extended periods of time, and may experience pain in other areas of the body, including the feet, knees, hips, and lower back. If you have flat feet, please consult with a podiatrist who can determine the right treatment for you.
Flatfoot is a condition many people suffer from. If you have flat feet, contact Brent Harwood, DPM from Southeast Podiatry. Our doctor will treat your foot care needs.
What Are Flat Feet?
Flatfoot is a condition in which the arch of the foot is depressed and the sole of the foot is almost completely in contact with the ground. About 20-30% of the population generally has flat feet because their arches never formed during growth.
Conditions & Problems:
Having flat feet makes it difficult to run or walk because of the stress placed on the .
Alignment – The general alignment of your legs can be disrupted, because the move inward which can cause major discomfort.
Knees – If you have complications with your knees, flat feet can be a contributor to arthritis in that area.
Symptoms
Pain around the heel or arch area
Trouble standing on the tip toe
Swelling around the inside of the
Flat look to one or both feet
Having your shoes feel uneven when worn
Treatment
If you are experiencing pain and stress on the foot you may weaken the posterior tibial tendon, which runs around the inside of the .
If you have any questions please feel free to contact one of our offices located in Fairhope, Brewton, and Atmore, AL . We offer the newest diagnostic and treatment technologies for all your foot care needs.
Read more about Flat Feet