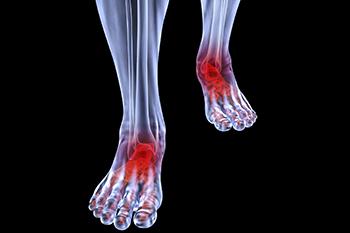 Arthritis of the foot - osteoarthritis, sometimes referred to as "degenerative arthritis" or "wear and tear arthritis" - is the most common form of arthritis in the foot, and affects virtually everyone to some degree after age 60.
This is an actual wearing out of the cartilage at certain specific joints. Sometimes the cartilage tears secondary to an injury and, therefore, no longer protects the bones at the level of the joint. The patient often feels pain and stiffness, and can also experience a dull throbbing pain at night.
Sometimes the bones try to repair themselves by forming bone spurs. Any condition which puts extra stress along the area of the joints, such as repeated use, injury and obesity, can trigger arthritis of the foot.
Treatment for arthritis by a podiatrist often consists of:
medication to reduce pain and inflammation
exercise
physical therapy
supportive measures, including supportive shoes, custom made supports or orthotic devices. These are shoe inserts made individually for patients who need foot support.
possible surgical repair is necessary for severely damaged joints
For treatment of this condition, contact Southeast Podiatry for an appointment with Dr. Brent Harwood or Dr. Bradford Egly.