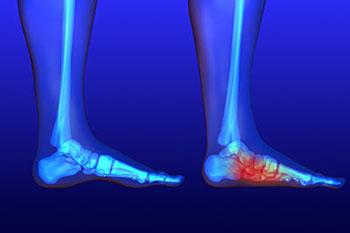 Cartilage and tendon damage are common foot and ankle* problems. Cartilage is flexible, rubbery connective tissue that cushions bones at joints. Cartilage can be damaged by a trauma, such as an injury, or by conditions such as osteoarthritis which cause the loss of cartilage.
Ankle fractures* can result in severe cartilage damage, but even a simple sprain can lead to significant damage to the cartilage. Treatment for cartilage damage depends upon the degree of damage and loss.
Tendons consist of small fibres of a material called collagen. Tendons connect the ends of muscles to bones and play a vital role in movement. Unlike muscles, tendons regenerate very slowly, depending upon the degree of damage and are inelastic. Cartilage and tendon damage can normally be identified with an expert examination and scans if needed.
As there are so many structures in the foot and ankle* that are at risk of being injured, it is important to seek early specialist advice. Often, the worst thing one can do with a significant "sprain" is to ignore it. Walking off the pain usually just doesn't work and can reduce long term healing. With appropriate treatment, following foot and ankle* injuries, it is possible to return to normal activities faster and long term problems can be prevented.
If you have any of these symptoms, call us at Southeast Podiatry to make an appointment with one of top podiatrists, Dr. Brent Harwood and Dr. Bradford Egly.