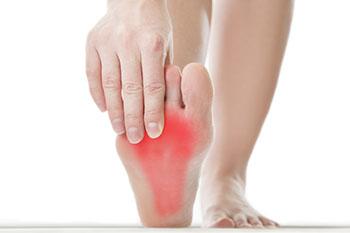 Plantar Fasciitis is an inflammation caused by excessive stretching of the plantar fascia. The plantar fascia is a broad band of fibrous tissue which runs along the bottom surface of the foot, attaching at the bottom of the heel bone and extending to the forefoot. When the plantar fascia is excessively stretched, this can cause plantar fasciitis, which can also lead to heel pain, arch pain, and heel spurs.
The most common complaint from plantar fasciitis is a burning, stabbing, or aching pain in the heel of the foot. Most sufferers will be able to feel it in the morning because the fascia ligament tightens up during the night while we sleep, causing pain to diminish. However, when we climb out of bed and place pressure on the ligament, it becomes taut and pain is particularly acute. Pain usually decreases as the tissue warms up, but may easily return again after long periods of standing or weight bearing, physical activity, or after getting up after long periods of lethargy or sitting down.
Our goals at Southeast Podiatry for treatment of plantar fasciitis are to:
Relieve inflammation and pain in the heel.
Allow small tears in the plantar fascia ligament to heal.
Improve strength and flexibility and correct foot problems such as excessive pronation so that you don't stress the plantar fascia ligament.
Allow you to go back to your normal activities.
Please call us at Southeast Podiatry to make an appointment with one of our doctor's, Dr. Brent Harwood or Dr. Bradford Egly.