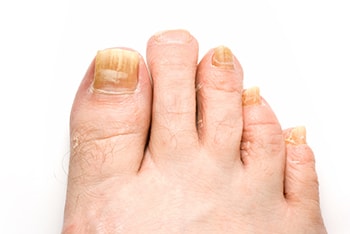 As I am sure you know by now, Onychomycosis (or Nail Fungus) is a persistent little fungus! Creams, ointments, pills, and home remedies all promise to return your nails to their beautiful state in no time.
Oncyhomycosis is a chronic, progressive, debilitating disease of the nail, the nail bed and the matrix. Over the years dermatopphytes enter the nail bed from the skin and infect the nail.
Toenail fungus is of course clearly a type of fungal infection, but it is an especially difficult one to cure. Left untreated it will rot away at the toenails for decades.
Discoloration of the nail (yellow, white, and brown or black)
Thick and painful nails that are very difficult if not impossible to cut
Flakey nails that will break easily
Discoloration and darkening of the skin around the nails (often looking dirty or bruised)
Lifting of the nail from the nail bed.
A toenail fungus will not go away by itself. The fungus will last for years, continually getting worse and worse (and harder to treat!). The only way to be sure that you are on the path to fungus free nails is to visit a podiatrist. He or she will develop the right treatment plan for you.
Our foot doctor's, Dr. Brent Harwood and Dr. Bradford Egly can detect a fungal infection early, culture the nail, determine the cause, and form a suitable treatment plan, which may include prescribing topical or oral medication, and debridement (removal of diseased nail matter and debris) of an infected nail. Indeed, debridement is one of the most common foot care procedures performed by our best podiatrists at Southeast Podiatry.