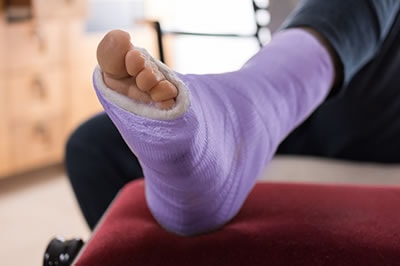 Jones Fracture The Jones fracture is a fairly common fracture of the fifth metatarsal. A Jones fracture occurs at the base of the fifth metatarsal bone (the one connected to the pinky toe), at the metaphyseal-diaphyseal junction, ¾ of an inch away from the base of the fifth metatarsal. It is located about ½ inch distal (further from the body) to the projecting part (the tuberosity) of the fifth metatarsal.
A Jones fracture is often mistaken for a sprain or an avulsion fracture. This is why it's important to have your injury diagnosed as soon as possible. The area of the Jones fracture has a very small blood supply. Jones fractures disrupt that blood supply and can take much longer to heal, and may require surgery for treatment. It is also important to get a proper diagnosis, because a true Jones fracture often results in a non-union (the permanent failure of a bone to heal) if it is not identified and managed properly. Jones fractures can be acute (sudden) or chronic. Often there is a stress reaction in that area of the bone which has predisposed the area to injury.
Sir Robert Jones was the first to describe the Jones fracture in 1902. He said that he incurred the injury while dancing. In fact, the Jones fracture is also known as a Dancer's fracture, since many people incur this injury while participating in activities such as dancing.
If the Jones fracture is not significant, it is typically treated with a cast, splint, or walking boot for six to eight weeks. This treatment is sufficient for 75 percent of mild Jones fractures. Patients are advised not to put weight on the injured foot until so instructed by their doctor. For athletes, or those who incur an acute Jones fracture, surgery may be required. You may be given NSAIDS (non-steroidal anti-inflammatory drugs) to reduce pain and swelling during the healing process. In most cases, rehabilitation can begin once the cast is removed, and you will gradually be able to resume your normal activities. Rehabilitation may take an additional two to three weeks. Your age may also play a role in healing time. Younger people are known to heal faster from bone injuries. If there is delayed healing, a bone stimulator may be used.
If the Jones fracture fails to heal correctly, the patient may be required to wear the cast for up to twenty weeks. The fracture can then become a chronic condition. Jones fractures do not heal easily due to the lack of adequate blood supply to the area. Almost 75 percent of all Jones fractures eventually heal properly, however, and do not recur.
Our top podiatrists at Southeast Podiatry can treat this type of fracture; just give us a call to make an appointment with Dr. Brent Harwood or Dr. Brad Egly.